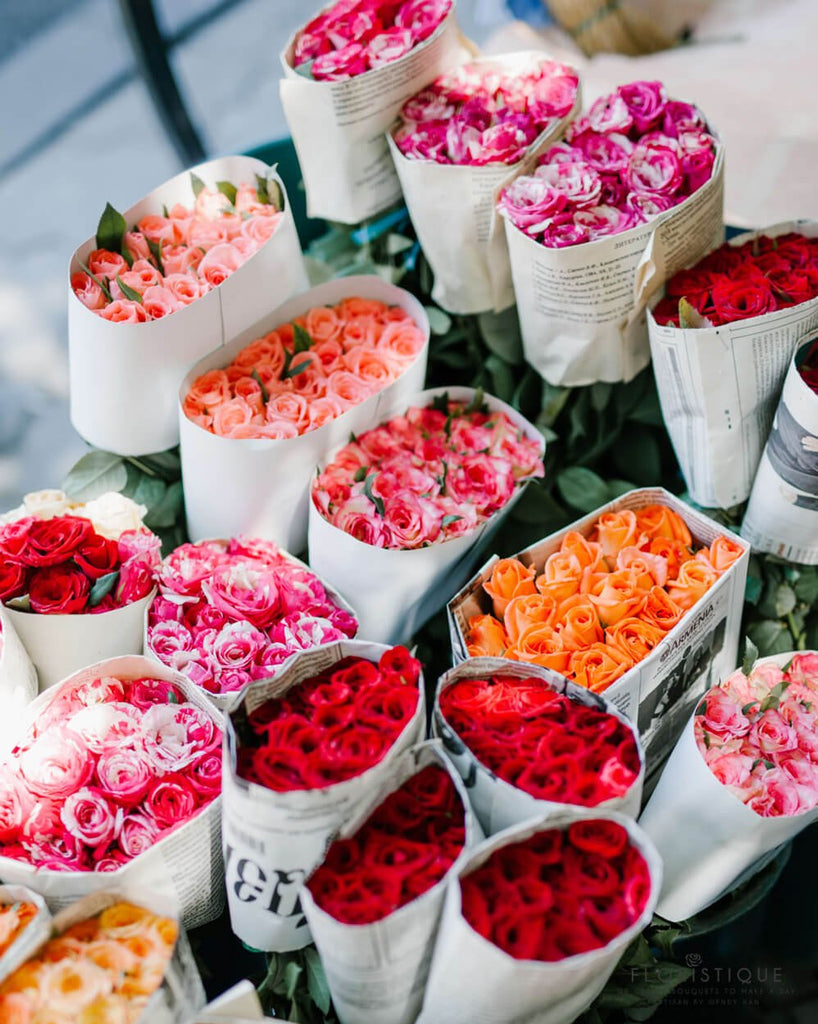 FREE DELIVERY ISLANDWIDE
Fresh Wholesale Flowers in Singapore
Singapore's 1st One-Step Fresh Flower Wholesale Online Shop
No Minimum Order Required
Same Day Island-Wide Delivery Available
For Bulk Orders (>$500), Kindly Whatsapp Us @ 8031 9620
Free 1-to-1 Exchange If Quality Is Not Satisfactory
*All Wholesale Flowers Come In Original Packaging From Overseas.
*Photo shown is single size
Flowers Used
Dimension
Loading in progress, kindly wait for page to load fully before adding to cart.
Whether you are planning a wedding or simply looking to create your very own flower bouquet for a loved one's birthday, there is no denying that fresh cut flowers can do wonders in brightening up a space and help in the celebration of festive occasions. But the regular brick-and-mortar florists that are strewn all over Singapore might not always be the most pocket-friendly option, and rarely would they have a wide enough selection of fresh flowers, loose flower petals and plants that you can buy in bulk. This is where flower wholesalers come in.
Often the go-to choice for florists, wedding planners, hobbyists and even regular customers, florists that specialise in the wholesale of flowers might function like those in your neighbourhood wet market but definitely take things up a notch with accessibility, variety, affordability, and delivery. Buying flowers in bulk from wholesalers means that you will be getting the freshest cut flowers that last and innately boast the wow factor, all at an affordable rate. And the same can be said for Floristique.
FLORISTIQUE: DEPENDABLE AND PROFESSIONAL
Find yourself constantly searching for "where to buy cheap and fresh flowers in bulk" or "where to buy loose flowers" online? You can call your search off as Floristique is the ultimate florist that supplies wholesale flowers in Singapore. As one of the leading flower wholesalers in Singapore, Floristique is your one-stop shop for all floral needs, offering an extensive collection of fresh flowers, bulk flower petals, loose flower packets and even dried flowers to pick from. But here at Floristique, we take your experience of buying fresh flowers wholesale in Singapore to new heights with our unique personalised e-commerce platform. Enjoy wholesome prices on our range of flowers, plant fillers, loose dried flowers, unrivalled customer service, and free standard next-day delivery to your doorstep without meeting any minimum order requirements!
WHOLESALE FRESH CUT FLOWERS, PRESERVED FLOWERS & LOOSE FLOWERS
At Floristique, we understand the challenges of having to fork out exorbitant amounts for tasteful flowers. As such, keeping the quality and beauty of the blooms in mind and anticipating the needs of our customers, we offer all that is needed to create beautifully designed bouquets and arrangements. Whether you are looking to buy different types of cut flowers like eustomas, carnations, hydrangeas, sunflowers, peonies, or roses at wholesale prices to purchase in bulk, you can order some of the most beautiful curation of cut flowers online and have them delivered to your doorstep. Supplied directly from fresh flower farms from around the world, get your hands on everything from dusty miller plants to daisy bundles and other seasonal blooms, all year round at reasonable prices.
WHOLESALE FLOWER DELIVERY ACROSS SINGAPORE
Flowers are no doubt delicate and vulnerable to the weather and might be damaged during the delivery phase if not transported with care. Aware of all these bottlenecks that come with flower delivery services, you can rest assured that Floristique takes extra precautions to transport your bulk orders safely and carefully, keeping them in the original packaging from overseas. Regardless of your purchase, be it dried flowers, bulk flower petals, or fresh cut flowers and plant fillers, our team is skilled and experienced in transporting them, ensuring that the lifespan of your blooms is sustained and they reach your location in tip-top shape.
ORDER FLOWERS IN BULK ONLINE
Looking for a florist that specialises in the wholesale of fresh cut flowers, preserved flowers, and more? Look no further than Floristique. For years, Floristique has been supplying the freshest flowers to customers across Singapore at affordable prices. Buy flowers in bulk online at wholesale prices all year round by conveniently adding them to your cart and leaving the rest to us. From the packaging down to the delivery, we will have your orders sent to your location of choice by the next working day.

---
Frequently Asked Questions About Fresh Cut Flowers in Singapore

1. How do you make fresh cut flowers last longer?
Flowers can typically last up to 12 days if you cut off the lower part of the stalk before putting them loosely in the vase. Receiving beautiful flowers equates to happiness, so you'll want to keep them blooming as long as possible. At Floristique, we only deliver high-quality loose flowers and cut flowers that are nurtured to last longer than their average lifespan. When you order loose flowers or fresh cut flowers online, consider our add-ons that extend the vase life of flowers by up to 60%.

2. How do you preserve fresh petals?
There are various ways to preserve fresh petals. One is to put the petals between book pages for about a month. This method will produce prettier dried petals. You can also leave the petals under the sun for two weeks. But why not get rid of the hassle of preserving your own fresh flowers? Because at Floristique, we boast a wide range of loose dried flowers too!